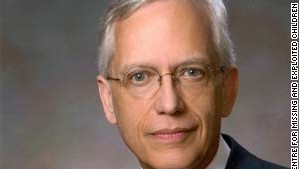 By Ernie Allen, Special for CNN
Editor's note: Ernie Allen in the president and CEO of the International Centre for Missing and Exploited Children, a global organization to protect children from sexual exploitation and abduction.
Human trafficking, including sex trafficking of children, is moving from the streets to the Internet.  Increasingly, the traffickers are also migrating to a new, unregulated, unbanked and largely anonymous Internet-based financial system.  For the traffickers, the appeal is obvious. This virtual economy offers them anonymity with little if any regulation or oversight. It is easy, low risk, and enormously profitable.
The issue is complex. The global payments market continues to evolve with the boom in e-commerce and mobile payments and alternative payment methods are being adopted.
In emerging economies mobile payments are becoming more prevalent because there are more mobile phones than bank accounts. Technology is changing the very nature of money and has prompted the creation of a new Internet-based financial system which has resulted in alternative payment methods and digital currencies being widely used today.
However, this new system is unregulated and has become a preferred venue for the sale of illicit drugs, weapons and for those who are involved in commercial child sexual exploitation.
It uses digital currencies; bulletproof hosting; the ability of customers to upload, store and distribute content anonymously and hacking capability. Hidden from view are new Internet tools which are allowing users to visit Internet websites anonymously and publish hidden services.
While most of those who use digital currencies and alternative payment mechanisms are not criminals, digital currencies offer little that can be tracked and make it virtually impossible to determine what is lawful and what is not.
There is no central bank, authority or hub, and the currency is purely digital. Hidden online marketplaces that use digital currencies have created a special niche making it difficult to track transactions between users.
When traffickers and other criminals use the established, mainstream payments system to collect and distribute proceeds, there are tunnels or trails through which authorities can "follow the money."
There are no such trails with the new virtual economy. It gives traffickers the ability to communicate and network with each other, share information and operate their criminal enterprise with almost no risk.
Traffickers and child pornography producers use free software that provides anonymity for domain names, web services and the users who access them. They can use a web server without revealing an IP address.
With no public address, a person can run a hidden service from behind a firewall with virtual anonymity, and then use digital currencies to collect payment.
Human trafficking, child exploitation and other criminal enterprises are moving rapidly to the new virtual economy which is rapidly becoming a safe haven for them.
This situation poses troubling challenges for law enforcement and for organizations like the International Centre for Missing & Exploited Children which are struggling to prevent the exploitation and victimization of the world's children.
We must increase the risk and eliminate the profitability. However, how do we balance the legitimate use of emerging Internet-based technologies with the illegitimate use of these technologies to operate illegal enterprises under a veil of secrecy and anonymity?
That is the challenge.