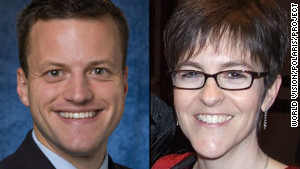 Editor's note: Jesse Eaves works as the senior policy adviser for child protection with World Vision, an international Christian humanitarian organization working in nearly 100 countries around the world. Mary C. Ellison currently serves as the director of policy for Polaris Project, a leading organization in the United States combating all forms of human trafficking and serving both U.S. citizens and foreign national victims, including men, women, and children. Together they are calling on U.S voters to make sure their senators pass a key anti-slavery bill.
With the upcoming elections, you can't turn on the television without seeing a negative campaign ad or heated news segment giving Americans a glimpse of the political divisions that currently exist in our country.
While politicians argue over our future government, we lose sight of how the actions of our current government are impacting the lives of real people right now, like the millions of enslaved men, women and children in the U.S. and around the world at risk if Congress fails to pass the Trafficking Victims Protection Reauthorization Act by the end of the year.