Don't miss: Ashton Kutcher and Demi Moore talk to Piers Morgan live on "Piers Morgan Tonight," Thursday at 9 p.m. ET on CNN.
Movie star couple Demi Moore and Ashton Kutcher are launching a new campaign Monday against child sex slavery.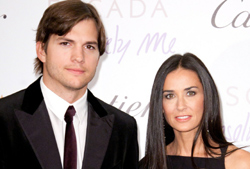 A host of other stars, including Justin Timberlake and Sean Penn, signed up for "Real Men Don't Buy Girls" aimed at stopping people buying underage girls for sex.
The Demi and Ashton Foundation, or DNA Foundation, hopes to raise awareness of the global problem that is also a curse in small towns and big cities across the United States.
Kutcher told CNN: "We want to create a cultural shift in the way men and women view young people selling themselves for sex."
He added: "Sex trafficking is an elastic trade. If you can raise the price for sex you can actually reduce the demand. As you reduce the demand that raises the price.
"[That means] you can, ultimately, put it out of business, and the way to do that is by attacking the demand because the supply is endless."
The "real men" campaign highlights the brutal reality of children forced into prostitution and gives advice on how people can help, even without leaving their home.
It features videos of male stars doing "real man" jobs like shaving and ironing, and then offers users the chance of a supporting role by getting their own photo into the videos and sharing it with online friends.
Join the campaign and check out more videos
In the United States there are 100,000 to 300,000 American children between 11 and 14 who are vulnerable to being sold for sex every year, according to Shared Hope's 2009 National Report on Domestic Minor Sex Trafficking.
The report emphasizes any child can fall victim to the sex traffickers but highlights abused kids, children of drug users and runaways as particularly at risk.
Another problem identified by Shared Hope is that child sex slaves are often misidentified as prostitutes, and therefore criminals, rather than a trafficked child, and therefore the victim.
Kutcher said: "Right now most of these girls, if they are arrested, end up in juvey being prosecuted as opposed to be treated like a victim of rape. For the most part the guy is not charged with statutory rape which he should be."
To cut the demand side of the sex trade, Kutcher said: "First and foremost is do not participate, either you or your friends. If it's your friend then you say "I don't want to hang out with someone participating in that because you're hurting people."
"Secondly people can advocate for stronger laws supporting the rights of the victims. There are only six U.S. states that treat the girl like the victim."
He added: "I have seen guys make that decision to buy sex and when the girl shows up it's not something to brag about but at the same time it's not something anybody considers to be that awful.
"If we are going to make a social shift it can no longer be acceptable."
The DNA Foundation aims to eliminate child sex slavery worldwide. With its "real men" initiative it hopes to educate Americans that the problem is in their home towns as well, and includes American kids suffering.
Kutcher said: "The best way to measure success of "Real men don't buy girls" would be the number of people who drive through to our action tabs [on the website] and start taking pro-active steps like cleaning up the web by flagging those pages where there is most likely underage solicitation taking place.
"The internet is littered with this kind of stuff. If people put on their 'internet police badges' and they start enforcing that their internet is not going to have this type of transaction on it we will be able to see those metrics."